Welcome adventurers to The Olde World!
This will be a LARP  module style event!
We will be running 5 groups of 6 through a perilous dungeon to get our campaign going!
This LARP will be based on 16th century clothing and culture!
Every challenge you face and foe you defeat will mirror Warhammer Fantasy.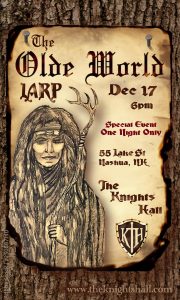 Weapons allowed for this event:
  LARP safe latex weapons
  LARP safe bows
  SCA style rubber band guns
We have available for your reservation:
30 Adventurer slots
This slot includes :1 Tavern Style Meal, a Module style adventure in the Olde World, and your entrance to the "Slaughtered Lamb" our Tavern of adventure, intrigue and danger
20 Tavern Patron spot
This slot includes : 1 Tavern Style Meal, and your entrance to the "Slaughtered Lamb" our Tavern of adventure, intrigue and danger.
More info coming soon and  please follow us on  FB