Rookie Rumble
has become one of our fan favorite events at The Knights Hall! 
To qualify for Rookie Rumble,  All fighters new to the sport, (24 months or less) are invited to test their metal against each other in this fast passed
Warlord style tournament. But that's not the end of the show!In true "Battle Royal" style, all the Rookies, (picked in order from the audience by drawing names from a hat), are sent back into the ring in 15 second increments. The fight is on and only the last fighter standing can win.
Just listen for Jaye , the Hall Father  to shout, "ROOOOOOKIE RUUUUUUMBLE"
Post from a prior Rumble, (Jan 2019)
"It was a phenomenal night at the Knights Hall last night at the third annual Rookie Rumble!! 26 fighters were chosen between two teams captained by Marie Rose Lynn and Marco Damiano!
Marie brought Team Kickass and Marco, his Marauders to the field!! These rookies fought valiantly as we tried out a shiny new format for the fighting! 15 minute quarters began with a singles duel, then went straight into 5v5 melee action for as many rounds as they could fight in the remaining 10 minutes of the quarter! Each round won scored a point. The Marauders fought hard and brought some pain, but in the end Team Kickass won the team portion of the evening 16 to 3.
Thats when the fun started.
ROOOOOOKIIIEEEE RUMMMBLE!!
Marie and Marco took the field to begin. Then every 15 seconds a new fighter entered the list! This continued until there was a last man standing!
Our last man standing last night was the indomitable Josh Barber winning the 2019 Rookie Rumble!
It was truly an amazing evening with some incredible new talent to watch out for in the list!
Thank you to all who came out to fight, support, and spectate!
This sport wouldn't be where we are today without every single one of you!!"
Come See the Knights of Armored Combat Sports in Full Contact matches, where modern athletes wearing 50+lbs. of armor fight with real weapons for honor and glory!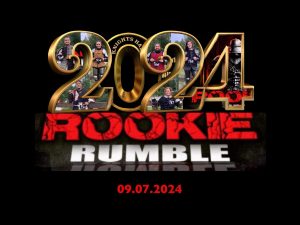 Full contact Knight Fights!
As seen on History Channel's "Knight Fight"
Real Athletes – Real Fights – Real Armor  – Real Swords & Axes
"And therein were many knights and squires to behold, scaffolds and pavilions; for there upon the morn should be a great tournament: and the lord of the tower was in his castle and looked out at a window, and saw a damsel, a dwarf, and a knight armed at all points."
-Sir Thomas Malory, 'Le Morte d'Arthur: King Arthur And The Legends Of The Round Table'
https://www.facebook.com/Knightshall/events/?id=100063644224858&sk=events